FAQs
Baby's Coffee strives to produce fresh, flavorful, and high quality coffee and tea products. We have set standards to our production process which ensures that you will receive the best coffee products. Throughout the years we have gotten some questions about our products and production process so we decided to compile answers for frequently asked questions we have received.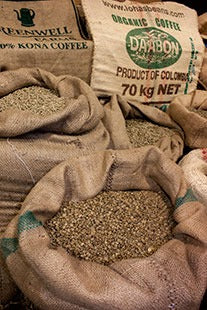 Origin
Here at Baby's Coffee we only use the highest quality Arabica Coffee ingredients to produce our gourmet coffee roasts.Caffeinated Coffee: All of our caffeinated coffee is roasted from 100% premium High Mountain Arabica Coffee beans. We never use lower quality Robusta beans as filler. We strive for quality, not quantity, and you'll taste it in every sip!
Decaf: All of our decaf is Swiss Water Process (SWP) Decaf. SWP decaffeinates coffee beans with water and steam only. SWP does not use any chemicals in their decaffeination process.
You will never purchase old or stale coffee and that is Baby's Coffee guarantee! Your coffee is roasted and shipped fresh, we roast orders on demand. You order, we roast,
and ship your Baby's Coffee to you.
Grinding
We offer a variety of bean grinding options which allows you to select your favorite Baby's Coffee in a grind option you prefer! Our grind options are whole bean, coarse grind, regular perc, electric perc, auto drip, fine grind, and espresso.
Packaging
Baby's Coffee is never vacuum packaged and nitrogen gas is never used to keep your order fresh. Once your order has been roasted we package your coffee in 1 pound lined brown paper bags and seal it in a ziplock bag.